Lucknow. Assembly elections are going to be held in Uttar Pradesh in February-March next year. With the time of elections approaching, the period of political equations of making and deteriorating is also going on. Some new faces are joining all the political parties of UP and some old faces are leaving together. Meanwhile, the round of mail meeting is also going on regarding new alliances.
From Chief Minister Yogi Adityanath to Samajwadi Party chief Akhilesh Yadav and Bahujan Samaj Party supremo Mayawati, all are trying hard to woo the voters. in between UP politics Some of the pictures also made a lot of headlines. Political analysts are also interpreting these pictures in their own way.
Akhilesh and Jayant's 'moving steps' towards 'change'
Meanwhile, there is a churning going on between the two parties regarding the alliance between the Samajwadi Party and the Rashtriya Lok Dal. RLD chief Jayant Choudhary on Tuesday shared a picture with Akhilesh Yadav from his official Twitter handle and wrote, "Growing steps" while the SP president tweeted his picture with Jayant and wrote, "Towards a change with Jayant Chaudhary." '
The announcement of the alliance between the SP-RLD is expected soon after the meeting between Akhilesh Yadav and Jayant Chaudhary on Tuesday. (Photo courtesy- Akhilesh Yadav's Twitter page)
It is reported that both the parties can announce an alliance soon. The agreement is stuck on just a few seats. Akhilesh Yadav has also already said about this that his party's alliance with RLD is fixed and only seat sharing is yet to be discussed.
The meeting between Akhilesh and Jayant on Tuesday is being seen in this episode and it is clear from their pictures that the announcement of the alliance is just a few days away.
Mulayam's faith in Kavi Kumar
At the same time, another picture which is gathering discussion since Tuesday evening is that of Samajwadi Party founder Mulayam Singh Yadav and poet Kumar Vishwas. Both of them had come to attend the launch program of SP leader Ram Gopal Yadav's book 'Rajneeti Ke Us Paar' at Indira Gandhi Pratishthan in Lucknow. During this, Mulayam was seen saying something in the ears of Kumar Vishwas sitting next to him.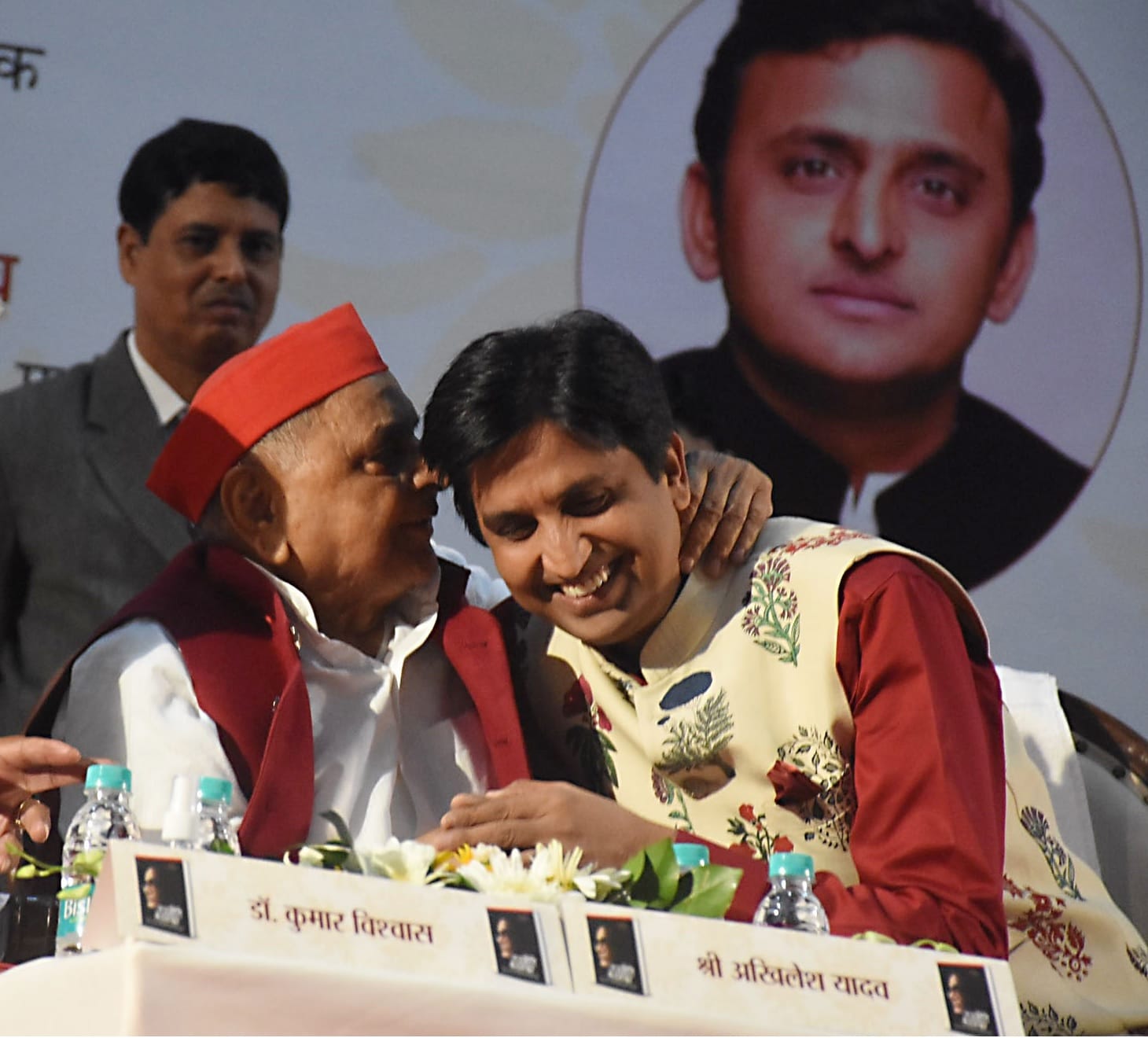 Malayam Singh Yadav and Kumar Vishwas had reached the Indira Gandhi Foundation in Lucknow to attend the launch program of SP leader Ram Gopal Yadav's book 'Rajneeti Ke Us Paar'. (Photo: Samajwadi Party)
It is reported that Mulayam Singh has invited Kumar Vishwas to join the SP. However, there has been no response from Vishwas on this as of now. He simply said from the stage that he is no longer in any party. When all this was happening, Akhilesh Yadav was also present on the stage there.
Trinamool's efforts
These days, West Bengal Chief Minister Mamata Banerjee is getting several leaders one after the other to join the Trinamool Congress to increase the base of her party. Congress leader Kirti Azad, former president of Haryana Pradesh Congress Committee Ashok Tanwar and former general secretary of Janata Dal (United) Pavan Verma joined Trinamool Congress on Tuesday. Apart from this, famous lyricist Javed Akhtar and once a BJP leader Sudheendra Kulkarni also met Mamta Banerjee in Delhi, after which both of them also started speculations of joining TMC.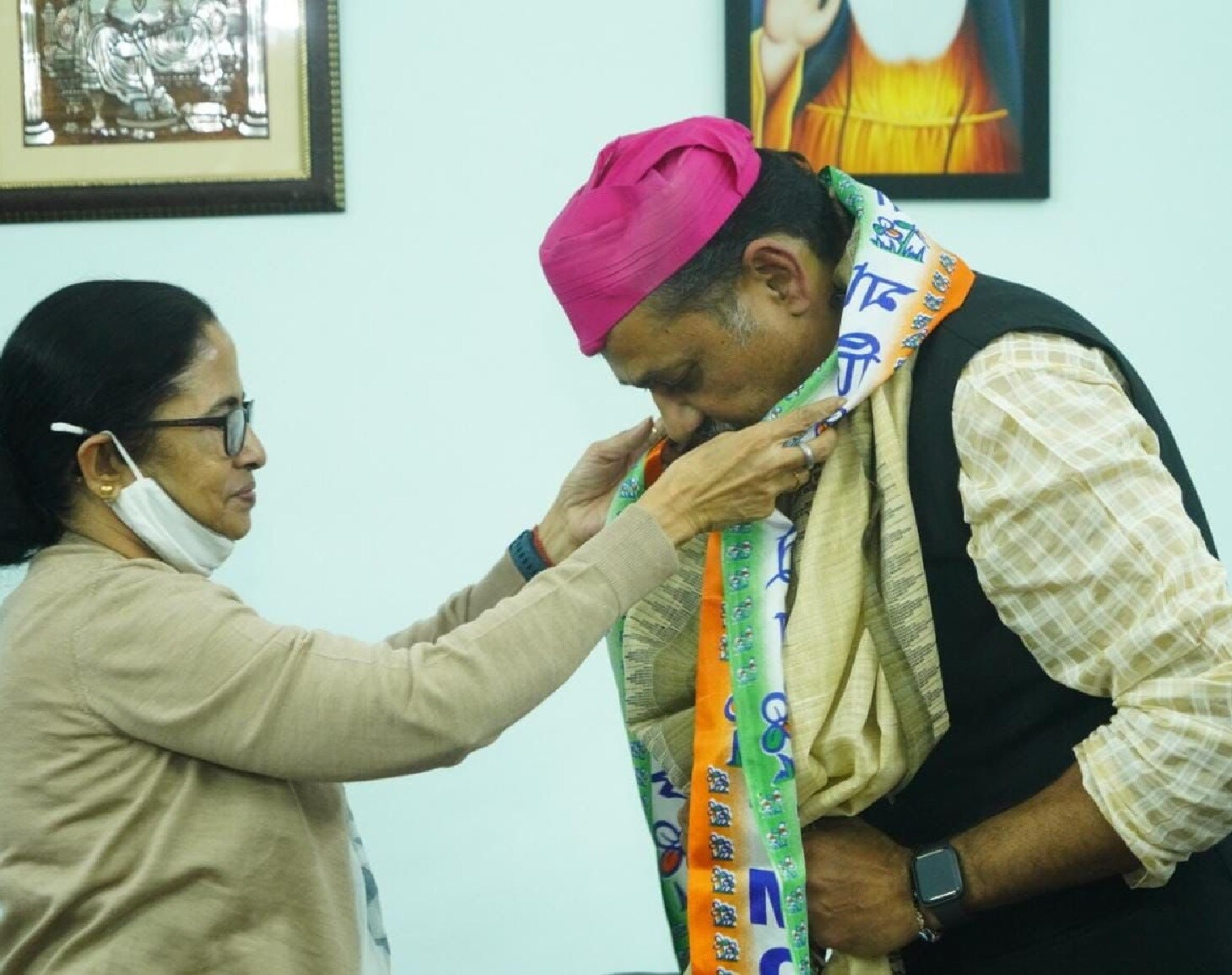 Mamta Banerjee wearing Trinamool Congress flag to Congress leader Kirti Azad (Photo- AITC)
Mamta Banerjee has already announced to enter the UP elections and last month she has clarified her strategy by including big face of UP Congress Lalitesh Pati Tripathi in TMC. There is news that Tripathi can be made the leader of the party, while these three leaders, who joined on Tuesday, may not have any direct connection with the politics of UP, but the party can use them vigorously in the election campaign. Here Mamta Banerjee's effort will be to show that she can become the face of opposition unity against BJP.
CM Yogi and PM Modi have left
The picture that was discussed the most before the Uttar Pradesh assembly elections is the picture of Chief Minister Yogi Adityanath with PM Narendra Modi. This picture was shared on CM Yogi's Twitter handle, in which PM Modi is seen placing his hand on the Chief Minister's shoulder. Along with this, it is written in it, 'We have set out with a vow, by dedicate our body and mind, have the stubbornness to make a sun rise, to go higher than amber, to make a new India.'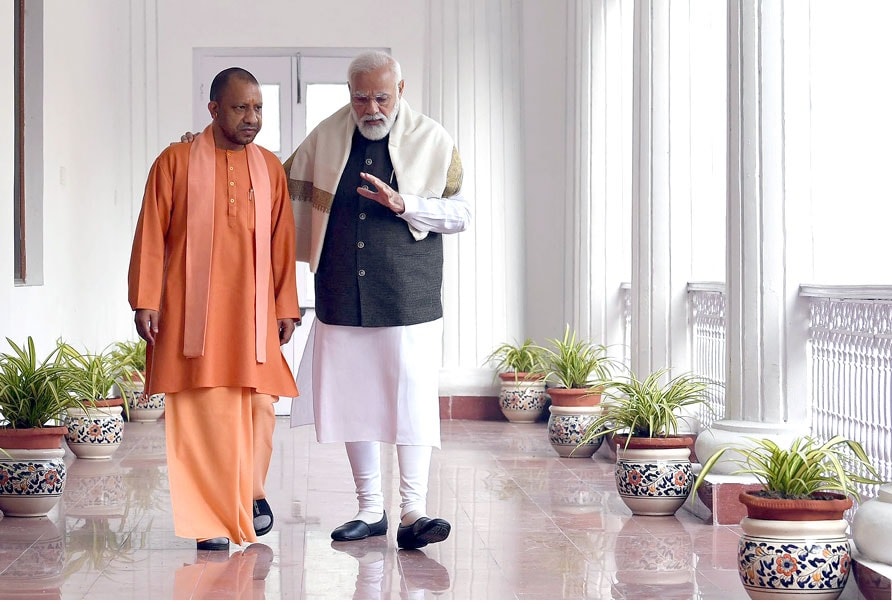 This picture was shared on CM Yogi's Twitter handle.
According to political analysts, this picture clears many things at once about the election strategy of the BJP. One thing that is becoming clear from this picture is who will be the face of BJP in the UP elections. It was also clear from this that BJP will enter the upcoming elections only with the help of Modi-Yogi pair.
In the 2017 elections in Uttar Pradesh, the BJP won 312 seats in the 403-member assembly, while its ally Apna Dal won nine and the Suheldev Bharatiya Samaj Party four. Akhilesh Yadav's Samajwadi Party won 47 seats, Mayawati's Bahujan Samaj Party 19 and Congress 7 seats. Apart from this, RLD won one, Nishad Party 1 and Independents won three seats.